Book Review: The Sacred Lies of Minnow Bly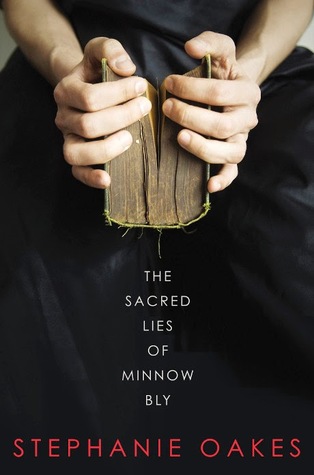 The Sacred Lies of Minnow Bly
by Stephanie Oakes
Publisher: Penguin Young Readers Group / Dail Books for Young Readers (June 9, 2015)
Pre-order on Amazon Today!
Genre: Fiction, Young Adult, Retellings, Contemporary
Pages: 400
Format: Kindle, Hardcover
"The Kevinian cult has taken everything from seventeen-year-old Minnow: twelve years of her life, her family, her ability to trust.
And when she rebelled, they took away her hands, too."
I was excited to review this book because I like mysteries and suspense, when I was younger I loved R.L. Stine books and based off the synopsis I thought this might be a great book to get back into a genre I once loved. It did not disappoint, just read the tagline…And when she rebelled, they took her hands, too." That was enough to draw me in and the book kept me there. The chapters are fairly short which meant when I was reading it at night I kept thinking…just one more, just one more.
Synopsis:
The Sacred Lies of Minnow Bly is Stephanie Oaks debut novel Based on Grimm's fairy tale, The Handless Maiden. Minnow has escaped the cult she has lived with for the past twelve years with her family. The leader of the cult has been murdered and Minnow finds herself in a juvenile detention center. She has lots of secrets but isn't talking. An FBI detective offers her a deal that could help her to freedom once and for all.
The book is set in the juvenile detention center as Minnow struggles to adjust to her new life and recounts the time spent in the cult and events leading to her arrest.
My Thoughts:
This dark mystery had me hook from the first line," I'm a blood-soaked girl." As the story continued I grew to admire Minnow and her strength. It is a story about overcoming grave tragedy and misfortune and finding freedom. The subject matter is very dark but I felt there was a nice balance of hope and light to not let it go overboard. The book was gripping, shocking, hopeful and inspiring.
I recommend this book to…
If you like dark suspenseful mysteries you would like this book. I have seen it compared to the show Orange is the New Black as many parts of the book take part in the juvenile detention center but from the few episodes I have seen this book is a little more tame.
Rating:
This book gets a 4 out of 5. It was almost a 5 for me but as this book deals with such a dark subject it didn't make me want to call all of my friends to tell them about it. I would recommend to any who I think would like the genre. This book is a great read that many will love but for some it just wont be their thing.  I really liked it and plan on reading Stephanie Oaks second book The Arsonist ,which it set to be published in Fall 2016.
I received this book for my honest review from the First to Read Program. All opinions are my own. This post contains affiliate links. 
If you think you would like this book you can Pre-order on Amazon Today!
Have you reviewed an early copy of The Sacred Lies of Minnow Bly? I would love to chat about it via Google Hangout to be recorded for my new series, Hanging out With Books.